Awarded 1/15/00 ...
An Award from my "Grandson"!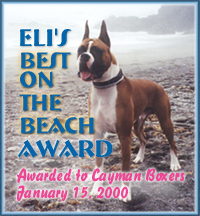 "While receiving this award might raise an eyebrow or two, please know that this Award is given for content and not design. Since Eli lives with the designer of the Cayman Boxer website, this could be viewed as slightly biased. Indeed, this Award is bestowed with love and respect to the two people who are Cayman Boxers ... Sydney & Doug Brown."
Awarded 2/6/00 ...
The Golden Bone Award!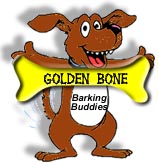 Awarded 1/14/00 ...
A Bay Area Award!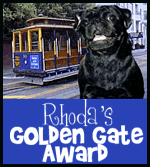 Rhoda's Golden
Gate Award
"We're pleased to present your site with our award. What a treat to meet some other Bay Area dogs, and gorgeous ones at that. Your breeding and puppy information is very responsible and we wish more sites presented things as knowledgably. We don't often give our award to people who breed, but find your site definitely worthy."
Awarded 12/30/99 ...
Our First Web Award!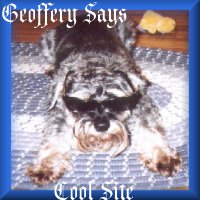 Thank you Geoffery and Katy!
"Mom & I just visited your lovely site -- all of your boxers are beautiful! "