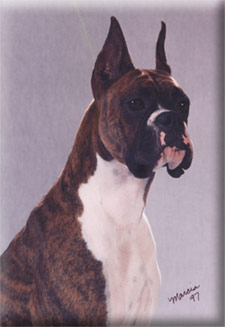 OFA Hips/OFA Cardiac BX-CA83/20F/S; OFA Thryoid
July 10, 1996 -- October 26, 2007
Sire: Am/Can Ch Pine Path's Night Watch Am/Can SOM, OFA
Dam: Ch Caymans Sweet Fancy, OFA
To: "SBL" <Showboxer-l@ShowBoxer-L.com>
Subject: [ShowBoxer List] 11 Years Young
Date: Thu, 12 Jul 2007 08:09:55 -0700
Yesterday was my Ch. Caymans Nightrider and his littermate, my Ch. Caymans Sweet Georgia Browns 11th birthday. They had what they thought was a great birthday. A long walk with their Daddy Doug, lots of goodies in their breakfast and dinner, and new toys to play with, and believe me, at 11, they still tear new toys to pieces! I guess that is a Boxer thing.

Georgia and Rider were sired (with frozen semen) by Am/Can. Ch. PinePaths Nightwatch Am/Can. SOM out of my Ch. Caymans Sweet Fancy.

Also happy to report that Rider has puppies from a natural breeding currently being shown. He may be old, but he is still a Stud!

Happy Birthday Rider and Georgia, and here's to more birthdays!