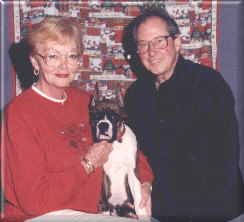 I'm Sydney L. Brown, and I share my life with my husband, Doug and a wonderful breed of dog called Boxer. Pictured with us is Ch. Caymans Sweet Georgia Brown at 4 months of age (photo taken December, 1996). "Georgia" is the 4th generation from our beloved Ch. El Sirrah's Cayman Gold, DOM.
How did we get started in Boxers? Well, in 1953 while living in Oahu, Hawaii, I purchased my first Boxer. "Ding" was nine months old. Her Sire was Ch. Playboy of Kalama. She only lived to be four years old. She was not only my first Boxer, but also the first dog I had ever owned. Her loss made me feel like I would never own another dog.
By 1960 though, I knew the house was too quiet and I wanted another Boxer, so I imported a dog and bitch from Germany. The male was two years old, the bitch was one year old. In 1961 I bred them and kept a bitch: Mai Tai lived to be 12 years old.
After Mai Tai's death, I was blessed with an 11 week old abandoned, mismarked brindle bitch, which we named Flekka, since she had spots all over her. She lived to be 11 years old, which brings us up to 1984.
Gold Worth Waiting For
Flekka had cancer, and we knew we would be losing her in the near future, so we started going to dog shows. We kept seeing this beautiful fawn male in the Breed, Ch. Doggone Ounce of Gold (pictured right) and determined that we wanted a bitch sired by him. Flekka was the only brindle we had ever owned, and we really felt we wanted a brindle.
We contacted Duana Young, the owner and breeder of Am-Can Ch. Doggone Ounce of Gold SOM (known as "Troy") We told her what we wanted and waited through three litters. Finally on January 1, 1985, the call came -- a six week old litter, sired by Troy -- with two brindle females!
Douglas was watching the Rose Bowl; I turned off the T.V., and said "Let's go!" One week later we came home with seven week old "Cayman" who became Ch. El Sirrah's Cayman Gold, Dam of Merit, bred by Lois Harris and Constance Hunter.
Ch El Sirrah's Cayman Gold, DOM, OFA
Sire: Am/Can Ch Doggone Ounce of Gold, SOM
Dam: El Sirrah's Critic's Choice
Cayman became a Champion at 15 months and went on to receive many Best of Breeds and Group Placements. She finished out of the American Bred class, and took Best of Breed over nine Specials from that class.
I hope you enjoy wandering through these pages; the Boxers that are honored are beautiful dogs. More than that, they're family. Thank you for stopping by; I hope you get a chance to visit us again. Throughout our pages, you will hear the song "The First Time Ever I Saw Your Face" ... this song was our Cayman's song.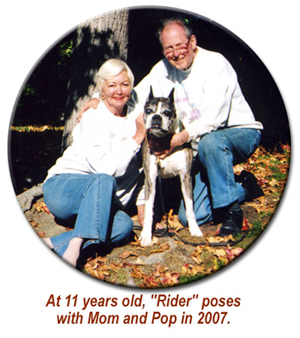 Our pages are loaded with our boxers! After more than 50 years with this wonderful breed, I continue to receive inquiries from people all over the world for photos photos photos! I promise -- you'll find LOTS of photos on my pages. Don't be surprised if most of our pages are slow to load!
My website was a gift that came online on September 6, 1999 -- thanks to my webmistress!